Chimney Inspection Camera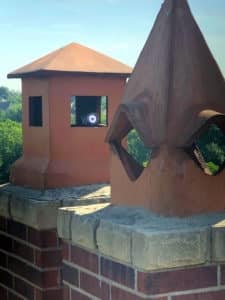 Peeking out of a
very unique
terra cotta chimney cap…
Meet our Chimney Inspection Camera. 
We use high-resolution chimney scanning equipment to record the inside of every chimney we service. Doing so provides a digital record for the chimney sweep to show our customers at the conclusion of a
Level 2 Chimney Inspection
, along with our complete evaluation packet. The most important thing is that our customers understand and feel informed enough to ask the right questions about what we find during an evaluation. What our chimney scanning equipment sees is much more than a human and a flashlight could ever detect. So if you hire a chimney sweep to inspect your chimney and they do not use a camera that goes up and down the entire chimney flue… then it's time to find a better chimney sweep.
No matter what sweep you choose, make sure they use the best equipment to inspect your chimney because your safety depends on it!