The way you store your firewood matters. If you're looking for the best firewood storage ideas, tips, and tricks, then you've come to the right place! From providing creative ideas to planning and building specifics, we walk you through all things firewood storage in this blog post.
Wood-burning fireplaces are fantastic for warmth, comfort, and beauty in your home. But enjoying a warm and cozy fire isn't possible without one key component:
An abundance of seasoned firewood.
To keep your system running smoothly throughout the cold and blistering winter, you need to utilize a storage area to keep your wood dry, safe, and organized.
How to Stack Firewood for Storing
No matter which method you choose make sure to stack your split logs off the ground to get good air circulation. Use a pallet or rack to elevate the wood to allow airflow that helps keep the logs dry.
Keep it covered. 
Do that and rest assured in just a few months, your cord of wood is ready to enjoy!
You may have found this post searching for inspiration or fresh ideas to fix up your yard next summer but perhaps you don't understand why proper wood storage is necessary?
Don't worry. We've got answers.
Why Stacking Wood is Important
Before diving into all your different storage options, let's talk a bit about the benefits of storing prepared logs properly. Here are 10 benefits to learning the right ways to store your firewood:
Proper seasoning is the #1 reason to stack your wood correctly.
Logs get increased sunlight and wind for natural drying.
Faster drying time for your logs.
Reduce chances of wood-rot or mold.
Keep pests out of your home.
Easily accessible, pre-seasoned logs are sized right; ready to burn.
Well-seasoned hardwoods result in cleaner burns and less smoke.
Reduced creosote build-up in your flues when using good wood.
Proper storage means you can keep a larger supply of burnable lumber on hand.
Creating larger air cavities between your cut pieces of timber makes your woodpile more resistant to rodents and other pests.
Learning how to stack wood for storing helps you season it for later burning in a fireplace, wood-stove… or even outdoor firepits.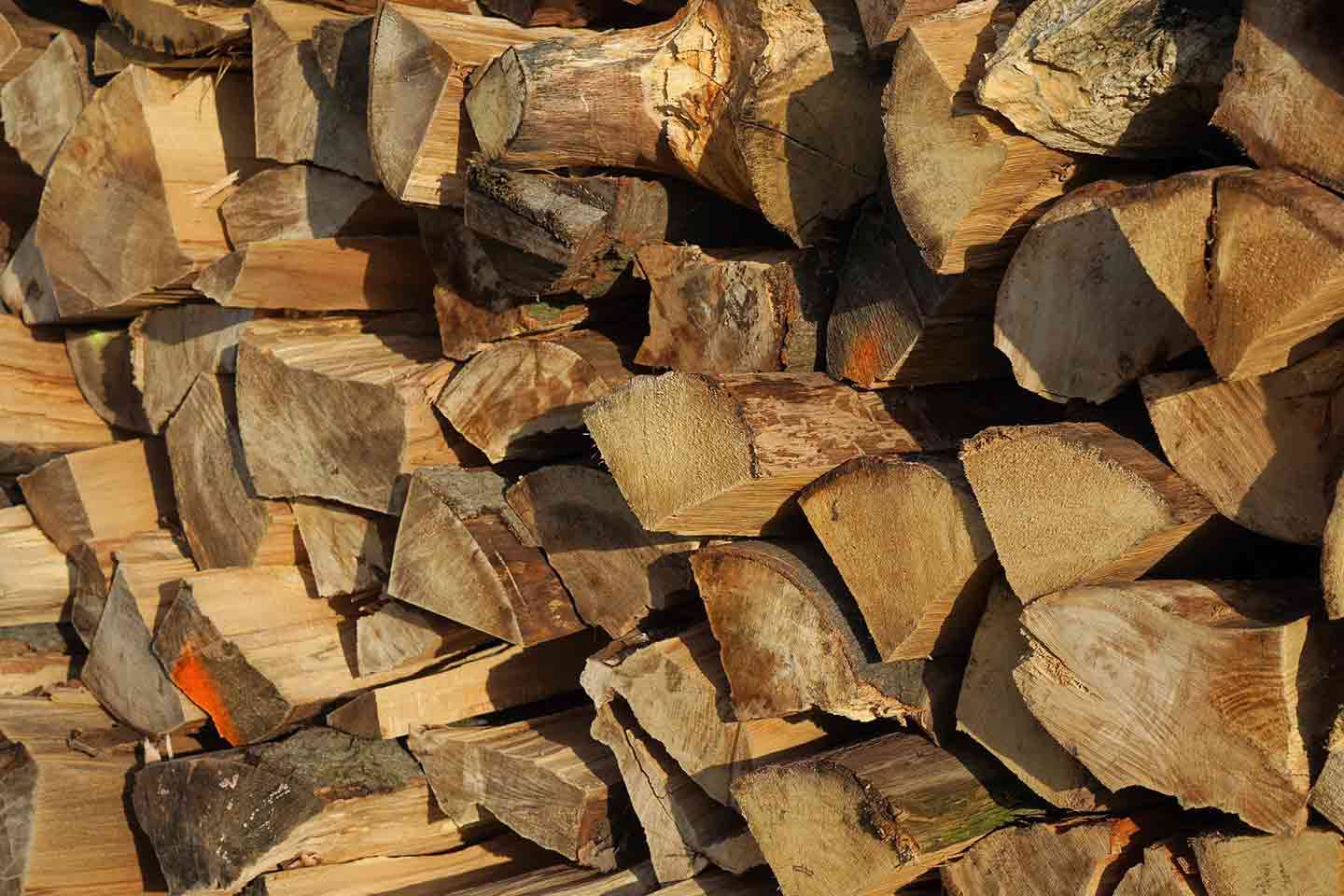 Example: Make sure to use odd-shaped pieces and leave extra space between your logs when piling to allow the breeze to get inside the pile and help keep the wood dry.
Variety of Wood Storage Options
With any home improvement project, it can be difficult to know where to start. This is where we come in, and lucky for you, there are many options for storing firewood.
From building a DIY firewood rack to simplistic indoor options, the ideas listed below will hopefully provide plenty of inspiration to find the best choice for you and your hearth.
We've listed your best ideas for firewood storage solutions. Both indoor and outdoor projects are listed below.
The stacking and storing methods found here will allow you to naturally dry season your woods like a pro!
Are you READY to learn the Best Ways to Stack Your Firewood?
Let's get started.
How to Build a Wood Storage Shed
One of the best options for storing firewood that all homeowners should consider is a firewood storage shed. This shed is fantastic for organization and will ensure your firewood's protection from inclement weather for years to come.
While we understand that the word shed implies either a costly and time-consuming project – or – an expensive factory-built shed purchase, we've found a simple tutorial video from BurnWise (a Program of the U.S. EPA). It's a wonderful resource for Homeowners and we'd like to pass it on to you!
Complete Plans for the Project
To make things even easier, the EPA included easy-to-read DIY Firewood Shed Plans. Fair warning this project requires moderate woodworking skills; however, the video narrator and demonstrators do a great job of breaking down each step of the construction process when build the wood shed. 
See the two documents below that break down the specific materials needed and how much it costs to build a shed like this one for less than $300. The complete project plans for How to Build a Firewood Storage Shed should open on click so you can print or save them to use at your convenience. 
Outdoor Firewood Storage Ideas
Ideas for outdoor wood storage areas are seemingly endless. They come in all shapes, sizes, and styles. But in the search for the idea that's best for you, one question will likely persist, what is the best way to store firewood outside? The answer, follow these critical measures: 
The wood should be stored somewhere fairly close to an exit door for easier wood carrying access in and out of the home.

The wood should be off the ground.

If it's for indoor use, it needs to be stored in a dry, breezy area to ensure it can age well.

Make sure your firewood is stacked properly and has protection over the top of it. If it doesn't, you should purchase a tarp cover to protect the wood from snow and rain.
Whether you pursue a DIY project or decide to buy something factory-built, your firewood will always be safe and ready for use if you follow these measures. Now, let's get into the creative and practical outdoor wood storage ideas! 
DIY Pallet Storage Rack
If you're familiar with any DIY projects, then you know that pallets are an excellent resource for building structures. And as you could probably guess, they are great for wood storage projects too!
This DIY Pallet storage rack is simple, affordable, and easy to construct. You'll need four planks of wood, three wooden pallets, a drill, and some wood screws for materials. All you need to do is lay one of the pallets on the ground, with the other two propped up on either end of the first pallet.
Lastly, use the four planks of wood to connect the pallets. Use the drill to screw them in; they will be used as braces, holding the structure together.
Bam! Just like that, you have a DIY firewood storage rack. 
Outdoor Firewood Storage Bench
Are you looking for somewhere to store your firewood, but you also want something that fits your home's outdoor aesthetic? Then the outdoor wood storage bench is perfect for you!
This multipurpose bench will have a large cubby hole to safely and securely store your firewood and, of course, serves as another seating area that takes up very little space. Check out this detailed DIY building plan by Lowe's to create this bench by yourself! 
Window Well Firewood Holder
Now here's an interesting way to hold your firewood. We love how it's separated out into sections for holding different types of woods. Split, ready logs on the bottom and add your sticks for tinder and kindling up top! 
This is a unique firewood holder made out of window wells and a few wooden boards! This simple, effective, and attractive design will shelter your firewood all winter long. You can even make it at home with relative ease! In the video above, Lowe's does a great job of illustrating the materials needed and the step-by-step construction. 
Indoor Fireplace Storage Ideas
A widespread question is, should firewood be stored outside? The answer to that is two-fold. Yes, storing firewood outside is necessary because it needs the outdoor air and heat to be properly seasoned before burned in a fireplace. 
Unseasoned wood can often carry insects and pests into your home. With that being said, if you plan on storing firewood indoors, be sure to follow these measures:
Ensure the firewood is accurately seasoned before storing it inside. 

Keep it away from walls, off the ground, and in a moisture-free environment. 

Watch out for any insects and pests hanging in or around the wood!
Now, with all the warnings and scary stuff behind us, let's get to the fun and creative indoor firewood storage ideas! 
Metal Log Holder
Utilizing circular and oval metal structures are great for achieving the farmhouse style and feel in your home. This will look incredibly eye-catching yet simple if hung up near the fireplace and mantel. If farmhouse is, in fact, your overall aesthetic, steel will likely be the best option for you. 
Considering steel can be expensive and welding together a steel structure certainly isn't something a novice should do.
Another fantastic option is to repurpose other metal structures, such as a galvanized water tank or a small window well (similar to the outside window well rack shown above). 
Concrete Log Holder
As shown in the video above, the concrete log holder is an attractive and unique idea! This modern and minimal project will look amazing sitting next to your fireplace. However, while it's a relatively cheap project, it's not one for beginners. So if you're an experienced craftsman who's looking for a long-tailed but rewarding DIY log storage project, this is the one for you.
DIY Rustic Wood Rack
This DIY rustic wood rack tutorial by Martin Johnson – Off Grid Living is awesome for multiple reasons. First off, the rustic look and feel of the rack would fit in beautifully in various home styles. But their design also has wheels for portability, and it also includes multiple shelves.
 This tutorial does require some basic woodworking knowledge. Still, if you put in the time and effort to complete this project the right way, you will end up with a stunning, mobile, and durable firewood rack that will help heat and improve your home's aesthetic. 
Copper Storage Rack
Think of this idea as a more minimal and simplistic version of the rustic wood rack mentioned earlier. This idea won't allow near as much room for storage, but what it lacks in size, it makes up for in mobility and style. Transporting the rack from door to fireplace is far more comfortable due to its small frame and weight. And the small size also allows you to show off the great looking rack almost anywhere in the house. 
There are many variations of this design, but we found a great tutorial conducted by Bunnings Academy! The overview, step-by-step instructions, and materials list are straightforward to follow and understand regardless of your woodworking experience levels.  
Are you looking to make a cheap firewood rack?
Are you interested in a DIY log storage project but don't want to break the bank? We understand the desire for a more price-conscious option. Don't worry, we've got you covered.
In the section below, we list a great indoor and outdoor option convenient for your home and wallet.
V-Shaped Wood Racks
As far as DIY firewood storage options go, this option may be the easiest one there is!
You simply need these materials:
Four 2×4 pieces of wood

Two cinder blocks
Next, all you need to do is insert a piece of wood into each cinder block hole, and then you're done! You now have an effortless and affordable firewood rack for your home. 
Wall Mounted Wood Rack
Here's another simple but cost-effective DIY project idea for you! But unlike the concrete log holder, this one is definitely attainable for most woodworking beginners. All it takes to build is the following supplies:
brackets

power tools

paint

a few long pieces of lumber
 This idea is perfect for seemingly any home because it saves a ton of space, and you can paint or stain the wood according to whatever fits best with your style. It won't store a large supply of logs, but it's perfect for people who burn fires only a few times a week. 
Wood Storage Inspiration
If you've made this far, then hopefully, these firewood storage ideas have inspired you to begin a DIY project or look online for something that fits well with the characteristics of your home.
Properly storing firewood throughout the year is an essential function of consistently operating your fireplace and chimney system. Throwing your logs in a messy and boring pile in the backyard will result in improperly seasoned firewood, expedited rotting, and, if overburned in the fireplace specifically, creosote build-up in the chimney. 
Do you need inspiration for other fireplace and chimney projects?
Follow us on Pinterest and check out our boards for:
Conclusion
Finding a way to store your logs doesn't have to be a worrying experience; in fact, many of the projects listed in this blog are easy, durable, and add a new dimension of personality to the indoor or outdoor sections of your home.
Good luck in your search and happy building! 
*Original post February 12, 2021