You can get up to $100 off your chimney service appointment now for a limited time only.
We're celebrating our beloved Kansas City Chiefs latest Super Bowl win by sharing this awesome deal with  you. Learn how to get a the biggest deal of the year on chimney sweep and fireplace services in Kansas City and select surrounding areas.
See complete details below for how to redeem coupon savings and receive the best value of the year on a chimney and fireplace inspection/cleaning service appointment.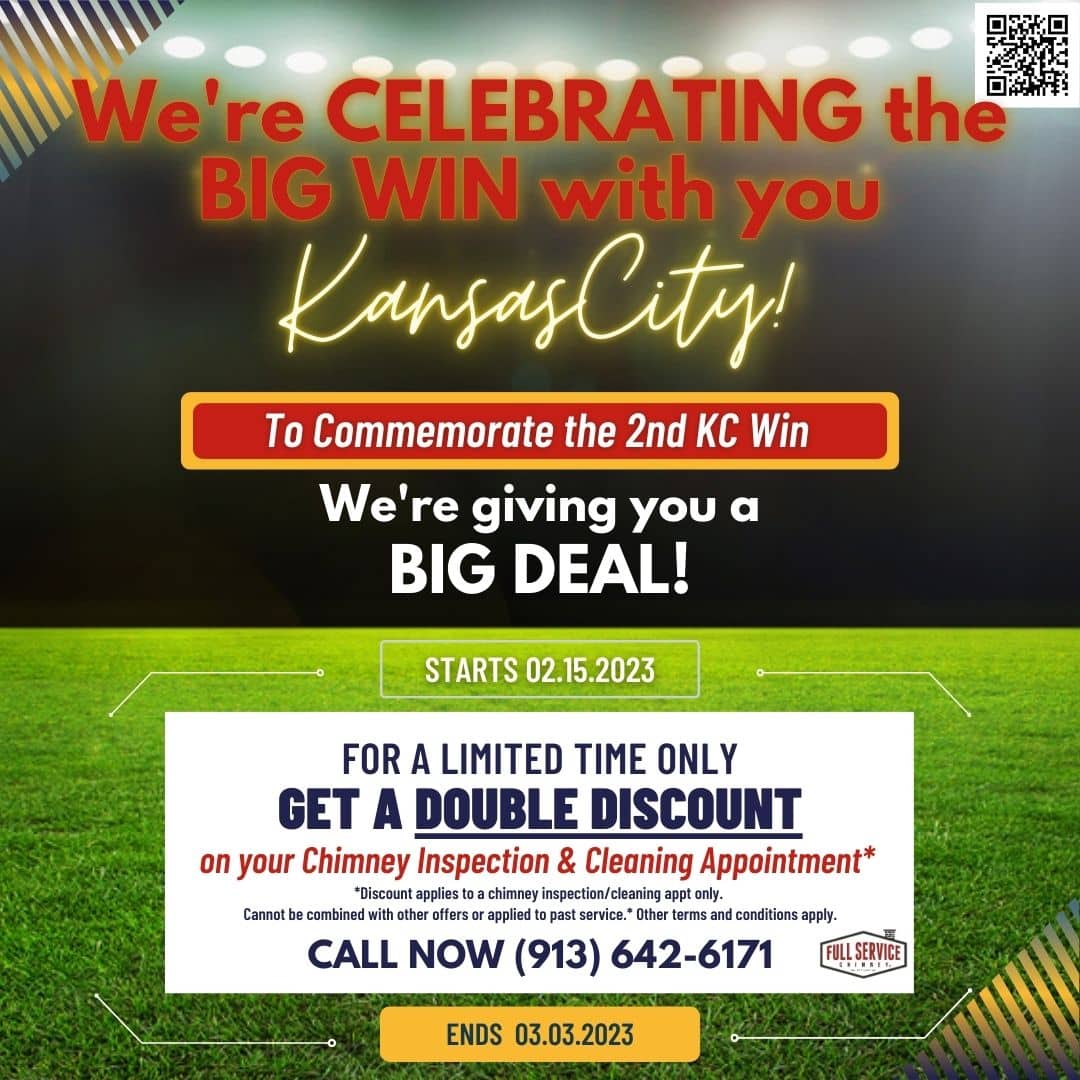 The BIG WIN for Kansas City means a BIG DEAL for your chimney!
We don't want to stop celebrating so we're giving you DOUBLE DISCOUNTS for the rest of the month on chimney and fireplace service appointments!
Promotional Rules and Eligibility Requirements:
You MUST CALL 913-642-6171 BEFORE March 3, 2023 to schedule your appointment for a chimney inspection and cleaning. In order to CLAIM the deal, you must contact us and use the promotional code "Double Discount" to Get $50 OFF your appointment + a secret special discount will be revealed when you book!
How to Contact Us:
📞 CALL: 913-642-6171
🌐 SUBMIT a web form 
📧 EMAIL: [email protected]
Click the link below to Request a Call and we'll respond within 4-business hours. ⬇️⬇️⬇️
Terms and Conditions:
*Discount applies to a chimney inspection/cleaning appointment only. Cannot be combined with other offers or applied to past service. *Other terms and conditions apply.
Use Promo Code:
DOUBLE DISCOUNT
Valid from Feb. 15, 2023 to Mar 3, 2023