Fireplace Renovation Season is here 🏠
If you're not happy with the way your fireplace looks, then it's time to UPDATE it!
Install a gas log set, replace your old fireplace surround tiles with brand new fireplace facing, replace your firebox. The possibilities are endless and we can help!
The Certified Inspectors at Full Service Chimney™ will visit your home and perform an evaluation. We will show you the condition of your chimney and help you understand your best options for restoring your home's fireplace.
For a LIMITED TIME ONLY claim your Fireplace Remodel Evaluation for only $99.
See terms and details below or call us today at 913-642-6171.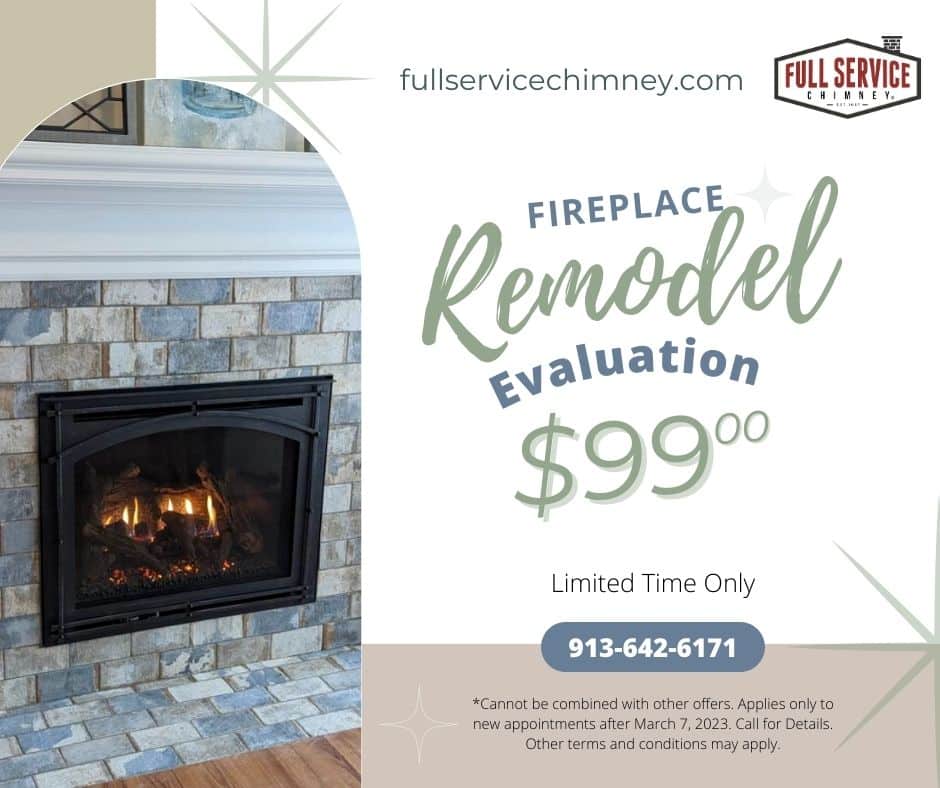 Use Promo Code: Remodel Evaluation
Valid on appointments after March 7, 2023
Terms and Conditions: *Discount applies to a chimney inspection/cleaning appointment only. Cannot be combined with other offers or applied to past service. *Other terms and conditions apply.
How to Contact Us:
📞 CALL: 913-642-6171
🌐 SUBMIT a web form
📧 EMAIL: [email protected]
Click the link below to Request a Call and we'll respond within 4-business hours. ⬇️⬇️⬇️
The options don't stop there…
We can help you convert your fireplace/chimney system from wood to gas or even from gas to wood… and guess what? It's a little known secret but we can also convert some systems into a HYBRID FIREPLACE.
What is a hybrid fireplace? you might ask… it means you can switch back and forth between using gas and burning wood, depending on your preference. And the luxury of it, is that you can switch it whenever you want! It's a perfect option for people who are a bit undecided and don't really know what they want. It's also an excellent choice for people who know when it comes to their fireplace experience, they want the BEST of both worlds.