If you are currently, or ever have been, in the market for a wood burning fireplace, you've likely encountered an overwhelming variety of fireplace types.
From wood stoves, to electric, to gas, the lists are seemingly endless. But regardless of the resource you use throughout your quest, zero clearance vs. prefabricated fireplaces are consistently mentioned and are both viewed as viable options for your home.
Video: Watch this woman's reaction to their newly installed Prefabricated Fireplace with Remote Control installed by Full Service Chimney™
It's certainly true they're both viable options for practically anyone; however, the lines between "zero clearance" vs "prefabricated" are often blurred by a large variety of under-researched online sources that use confusing jargon and outline fictional benefits.
This blog post will set the record straight between these terms and detail the different types, benefits, and installation costs.
What is a Zero Clearance Fireplace?
Zero clearance systems are prefabricated; yes, you read that correctly. We'll clear up any confusion in the next section. These appliances are highly efficient heat sources, designed for safe installation within inches of paneling, walls, sheetrock, and other combustible materials (Easily flammable materials). That's the genesis of the term "zero clearance."
 Unlike traditional masonry, these units are designed to lower the exterior temperatures, allowing them to be installed closer to combustibles in the home. Meaning a large buffer zone or "clearance" between the fireplace and combustibles isn't necessary. The clearance, however, will be measured to within a few inches, not literally zero.
With the design being built in a factory and easy to install, these systems are often incorrectly referred to as zero clearance fireplace inserts. But the difference between a zero clearance fireplace and an insert is the size and installation. Inserts are designed small enough to slide into an existing open space. But zero clearance fireplaces are explicitly framed into a wall and cannot be inserted because of their large firebox size.
What is a Prefabricated Fireplace?
Many misconceptions surround prefabricated and zero clearance fireplaces. Some sources will tell you they're entirely different, while others say they're the same. We're here to tell you that the latter is accurate. Prefab could be considered the slang term for prefabricated fireplaces, and as such, many use the two terms interchangeably.
For clarity's sake, we repeat:  prefabricated fireplaces and zero clearance inserts are the same thing. 
The first prefabricated, factory-built fireplaces commercially available were mistakenly considered safe for contact with combustibles. Many of these units were installed and used for wood burning in homes during the 1950s. Only when angry homeowners and fire departments concerned with house fires notified the manufacturers did the zero clearance rating become adjusted. And to spite the words "zero clearance" being removed from the installation instructions, the name stuck.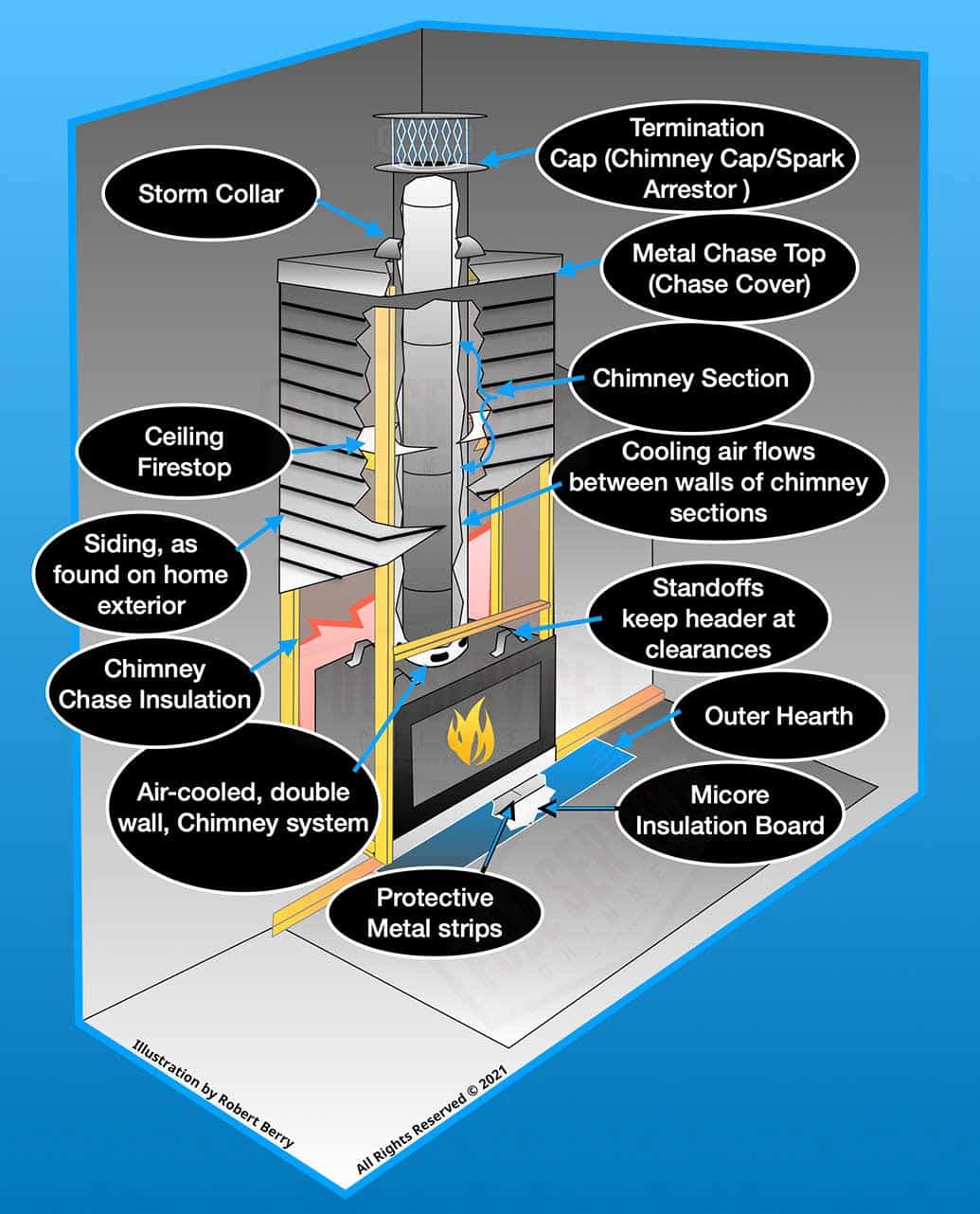 Factory-Built Fireplace Diagram with descriptions
Learn more about the Factory-Built Chimney Systems and the services we offer on our Prefab Service Page.
As the name would suggest, these fireplaces and chimneys are manufactured in a factory and assembled on the job site, unlike traditional masonry fireplace systems.
NOTE: We will use the terms "zero clearance" and "prefabricated" interchangeably in this blog post. We will intermittently utilize the abbreviation "ZC" instead of "zero-clearance" to save reading time.
Types of Zero Clearance Fireplaces
The reduced clearance to combustibles allows for more flexibility and overall easier installation. ZC units can be installed in almost any room in your home and feature a wide range of styles and fuel options. In the section below, we will take a brief look at some of the different ZC types. These are not the only available fuel types and style options, but they are currently the most popular.
Wood Burning
To answer what many of you may be wondering, yes, you can burn wood in a zero-clearance wood-burning fireplace. Wood is arguably the most popular fuel option among homeowners because it closely resembles a traditional masonry fire's beauty and ambiance. Factory-built wood fireplaces frequently unitize air from outside the home, a consideration when efficiency is a priority.
The standard model zero-clearance wood-burning fireplace insert is constructed of steel or metal and features an open-faced look. Other notable models are the modular masonry, which closely replicate the traditional style, and the high-efficiency models, which are similar to wood-stoves in functionality.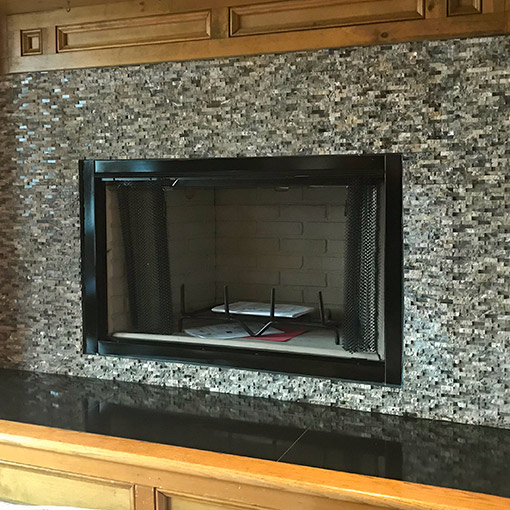 Image: Woodburning prefab installation with painted brick in fireplace and new refacing on outer walls.
Gas
With the flip of a controllable switch, gas-burning prefabricated systems produce a warm and beautiful flame using a natural gas or propane line. Most prefabricated systems even utilize non-flammable gas logs to closely mimic classic wood-burning. But what separates gas from wood-burning is the variety of venting and style options.
Like wood burning, modular and standard models are always available; however, the ventless, b-vent, and direct venting options available for gas allow you to get far more customizable. Linear, corner, and wall-mounted are just a few of the creative styles available to improve your home.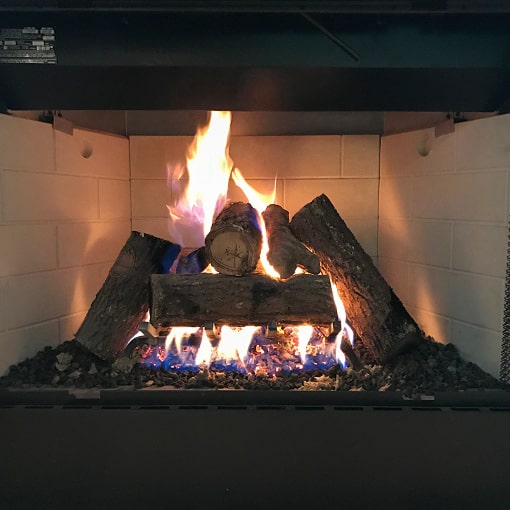 Image: Gas logs burning in a prefabricated fireplace after install with new refractory panels.
Electric
If these four options were in a battle for creative freedom, electric would take home the first-place prize. Install them in a wall, as a peninsula, or freestanding in the corner; as long as you have an electrical power source, your creativity holds no bounds.
These systems will serve as the perfect balance of a traditional open flame with modern style and design, but, of course, not as the primary heat source for your home or a room.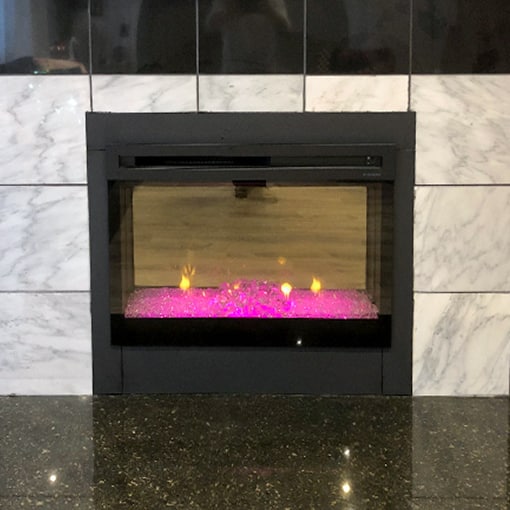 Image: Electric zero-clearance fireplace installed with a marble tile surround.
Benefits of Zero Clearance Prefabs
Now that you know the general information about these units, let's talk about a number of the main benefits of installing one in your home:
Versatility: As illustrated in the types section above, ZC prefab fireplaces are incredibly versatile and customizable. Due to the minimal clearance of combustibles and various venting options, these systems are eligible for nearly any household installation. From mansions to mobile homes, you can experience the warmth and coziness of a beautiful indoor fire.
Improved Efficiency: Many people don't realize that open-hearth masonry fires aren't efficient ways to heat your home. Their heating efficiency can be as low as 8-10%, while ZC can be as high as 70-80%.
Easy Operation: In the cases of gas and electric models, you can achieve a beautiful fire within seconds. Controllable switches and remote controls operate the vibrant flames. Of course, wood-burning isn't quite so simple. For tips on building the perfect, long-lasting wood-burning fire, check out this blog post!
Many Styles: Whether you're looking for a rustic, traditional, or modern zero clearance fireplace, we guarantee each will flawlessly add financial and aesthetic value to your home. But while there are many available styles, that doesn't mean every option is the right one for your specific home.
You should always schedule an inspection with a certified professional chimney technician before making any decisions!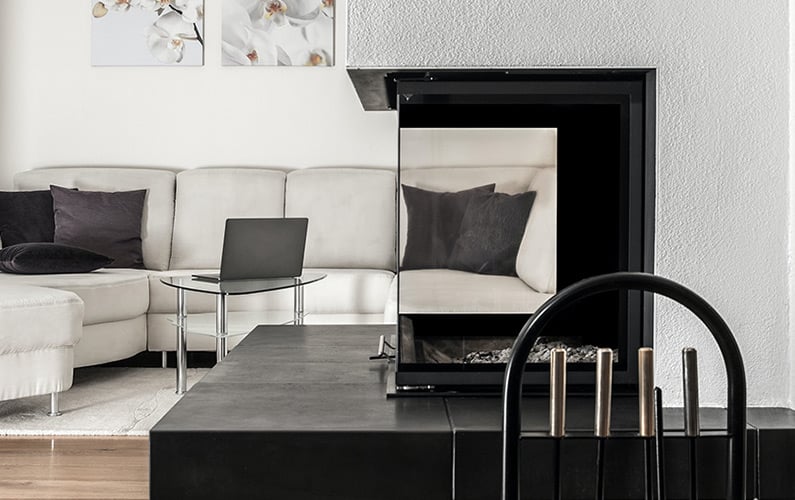 Site-built see-through fireplace with black surround. 
How much does it cost to install a zero clearance fireplace?
Zero clearance fireplace installation is substantially lower when compared to traditional systems.
 Installing traditional site-built masonry can often cost upwards of $5000 when factoring in labor and materials. Generally, with most ZC fireplaces, your options will cost significantly less because they're already manufactured to code and are simple to assemble; however, the variety of models and household specifics prevent us from providing a definitive price range. What we can say is, you won't have to worry about large-scaled reconstruction and massive labor costs if you choose to go with ZC.
How do I know if my fireplace is zero clearance?
In many understandable cases, homeowners have a hard time determining if their system is ZC. We are here to help! Follow these steps to clear up any misunderstandings.
The majority of prefabs have some sort of faux brick panels inside the fireplace. If you can't tell if the bricks are fake or not, ensure the unit is cool, then stick your hand inside to feel the material. The refractory panels are made of heat-resistant casting materials that won't feel like authentic brickwork.

The easiest way to tell if it's prefabricated is if there is exposed black metal on the outside of the unit.

Another easy way to identify it is by stepping outside and looking at the chimney. If siding or stucco covers your chimney, it's typically factory-built.

Lastly, if you find a metal manufacturer's label around the unit's opening, it's 100% prefabricated.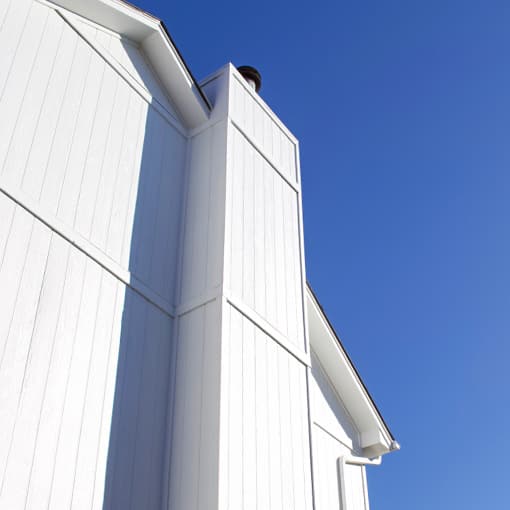 If you have siding around your chimney, then your system is likely prefabricated.
How to Install Prefab Fireplace Glass Doors?
People often ask how to measure zero clearance fireplace dimensions to order parts online and then easily install glass doors themselves without hiring a professional. There are certainly enough resellers offering advice to make people think this is a great idea when unnecessarily putting your home at risk.
Warning to DIY enthusiasts:
Do not order your own fireplace doors online without professional assistance. Do not attempt to install glass doors on your prefab fireplace insert (or other units).
Unless you're CSIA or NFI Certified and trained for installation projects, you should NEVER work on burning units by yourself. No matter what type of fuel, chimney/fire systems are off-limits to the novice handyman.
If you're considering adding fireplace glass doors, please consult a CSIA Certified Chimney Sweep in your area.
It's crucial to understand that all factory-built systems must strictly adhere to the manufacturer's code, and the parts are NOT interchangeable.
Here's an example of how your DIY fix goes very wrong:
Let's say, for instance, you find lovely doors that fit your zero clearance wood fireplace. And they look incredible next to your newly remodeled outer walls/refacing. But the doors you bought were either not model specific or improperly installed. Now your new beautiful living room is a fire hazard.
Ask yourself if it's worth the risk to your home and family.
Combine it with Your Annual Service Call
Look at it this way, in order to maintain your regular chimney maintenance, any home with a chimney system requires an annual inspection. So the next time you call your local pro for your yearly fireplace cleaning service, let them know you're also interested in buying a new screen or glass doors. That way while the technician is on-site, they can provide you the correct measurements and help you order the right door for your fireplace. Doing it the right way saves you money in more ways than one!
Call us at 913-642-6171, and let's chat about your options for prefab fireplace glass doors installation.
Summary
Zero clearance, or what's often called "prefabricated," refers to the minimal space needed for installation next to combustibles. For years, ZC and prefabricated have been considered different for various reasons; however, that is not factual. There is no actual difference between the two. 
They come in a wide variety of fuel types, venting, and style options. This means it's a virtual guarantee that you'll find the right choice for you. Of course, these systems are nowhere near perfect; they won't last as long or look as authentic as site-built masonry. Still, if you're in the market for a highly efficient fireplace that is easy to operate and won't break the bank, you should strongly consider a prefabricated zero clearance fireplace.
Are you in the Kansas City area and are ready to install a prefabricated system of your own? If so, give us a call today to schedule an appointment!
Check out some other posts from our blog…