Don't wait until Fall to call!  It makes good sense (and cents) to have your flues and venting systems attended to in the Spring or Summer months of the year. Here's 10 Reasons Why You Should Hire a Chimney sweep now, not later.
1. Get an Appointment Faster
The #1 reason to book your favorite chimney sweep now instead of later is the schedule!!
Autumn is the time of year everyone starts thinking about their fireplace and it's when chimney sweepers get the most attention!  The Fall is often our opportunity to welcome new customers.
Thus, in the spring and summer months, we want to take care of you – our existing customers and those of you who are just discovering you need a chimney sweep service to visit your home!
The benefit for you is convenient scheduling and loyalty rewards for our annual customers!
2. Upgrade Your Flue Cap to Stainless Steel
One key feature that can save homeowners a lot of money overtime are flue caps. Chimneys must be capped to keep out birds, animals, leaves, and rain. We've seen plenty of people try to get by using a screen and while that could work in an emergency, it's unreliable for any more than a very brief time.
During that time when your chimney/fireplace flue is not covered properly, you could see a massive decline in the health of your chimney system. 
Check out this 34 sec. video below and then visit the complete resource page full of information on capping your flues.
Don't forget to check out our YouTube Channel and Subscribe for more videos…
3. Preschedule Your Annual Inspections 
Your fireplace and/or utility flue chimneys should be inspected every year to address maintenance and safety concerns. This is not just our rule, but industry wide. Annual Chimney Inspections are recommended by the (NFPA 211) – National Fire Protection Agency and all CSIA Certified Professionals follow these standards.
If you hire a chimney sweep that says don't worry about inspecting your fireplace every year, you may want to find a new service provider for your home! You want your inspector to have your best interest in mind.
Click here to discover more about chimney inspections or schedule in the KC Metro area:
4. Fix Brick and Mortar Problems
Deteriorating mortar, missing or broken bricks and broken or cracked flue tiles must be replaced immediately to ensure damage does not continue or get worse. Brick spalling and many other problems can be detected early when you take advantage of your annual service appointment.
Often times, a little repointing is all you need, but if you let damages go undetected for too long a complete rebuild may be in your future. Hindsight is 20/20. Ask anyone who's had a hefty repair bill if they're glad they waited. Be smart, and don't let it happen to you.
Fix problems when they're small and you reduce the risk of worsening damage, and save money on your overall cost.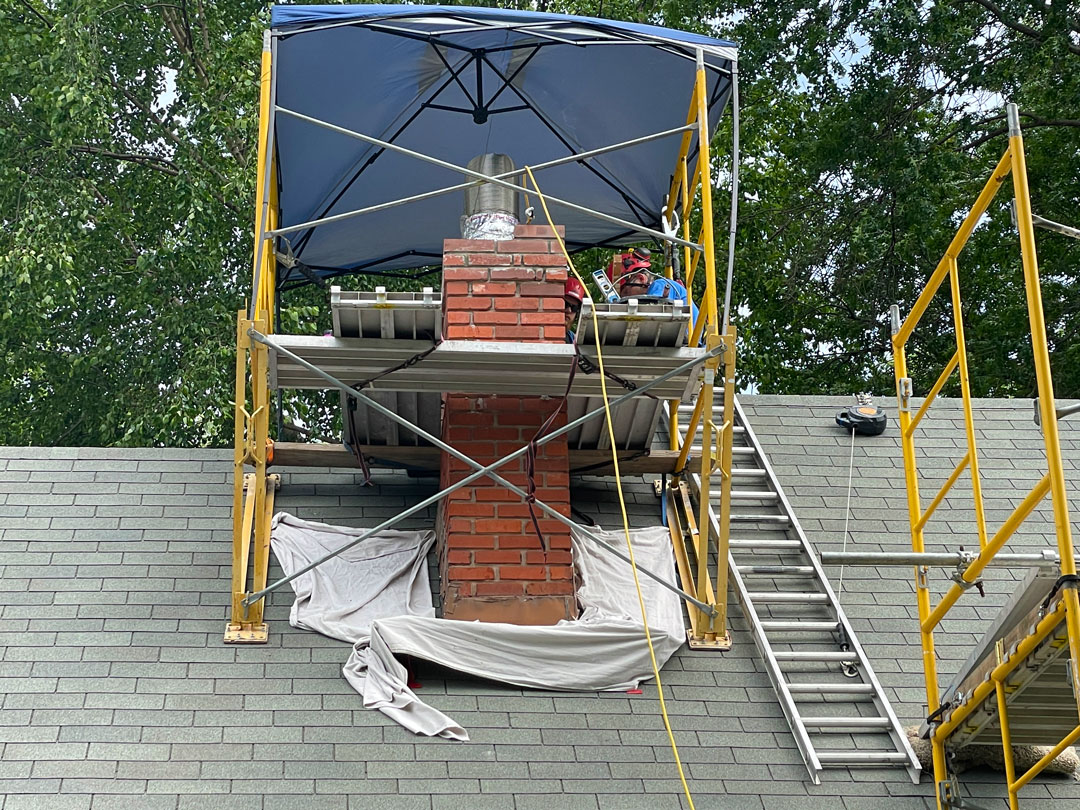 Image: Brick Rebuild on Roof
Click here to discover more about masonry work in the Kansas City area: 
5. Detect Cracked Flue Tiles
When exposed to high temperatures, a harmless-looking hairline crack in your ceramic tile flue liner opens up and grows larger. 
Here's a worst-case scenario:
you become aware of a cracked flue but decide to go ahead and use your fireplace anyway. The escaping heat and flames could set your house on fire.
The latest statistics show that over 25,000 house fires per year start in chimneys.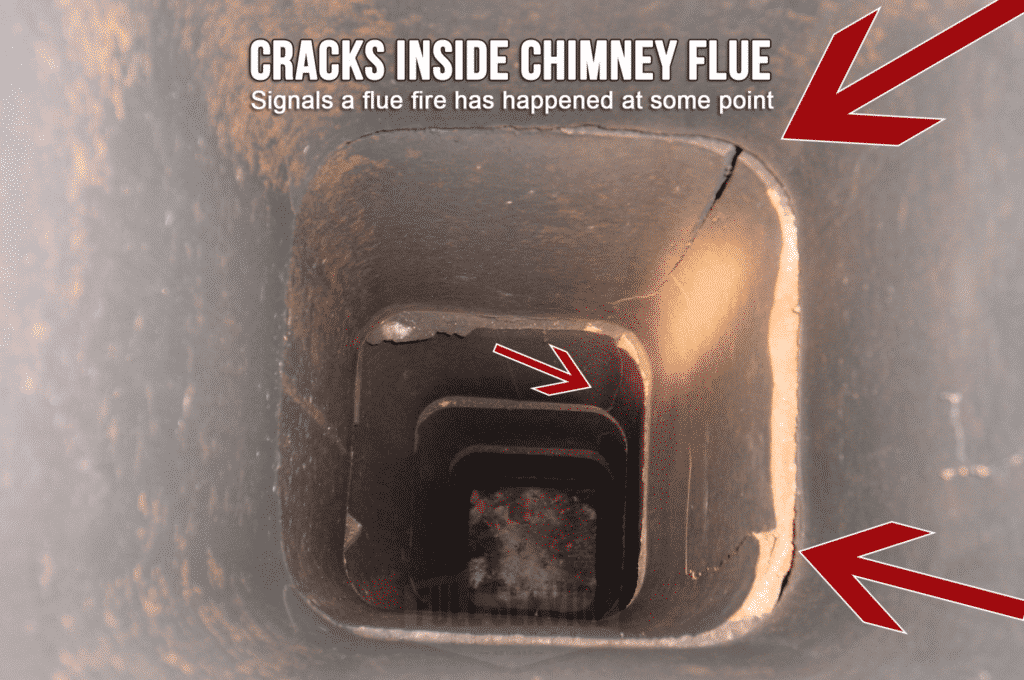 Here's the reality:
Much of the time, the real danger is the cracks you cannot see that end up starting house fires.
Have you ever heard the phrase: "What you don't know can't hurt you"?
Well, in this case, it's simply not true. What you do not know about your flue can absolutely hurt you.
The interior of your chimney is either working for your home or against your home, and it takes a Certified Chimney Sweep to help you figure that out.
But why can't we see the cracks, you ask? Great question…
What makes a cracked flue tile dangerous?
At first, these breaks are very tiny, hairline fissures. Cracking can occur on exterior parts of your chimney or fireplace where you can see, but in this case, the cracks happen inside the system. These tiny cracks require a special camera to detect; that's what makes them so dangerous. 
When small flue cracks are not detected early, they threaten a home's safety.
Every time a fire burns in your fireplace, the heat causes these tiny openings to grow and become more significant cracks until there are huge gaps in your ceramic tiles. Now you can see it's easy for the smoke exhaust to escape into the home. 
If the system hasn't been cleaned regularly, you've likely got some creosote build-up on the tiles, which can catch fire.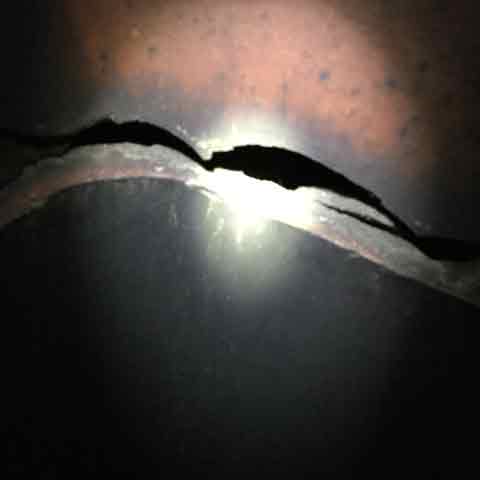 We do not recommend doing this but if you've already looked inside your flue with a flashlight and seen gaps such as the one shown in the image, STOP. Your fireplace is NOT SAFE for use.
Stay on top of your regular fireplace maintenance, and you won't need to worry! Your local Certified Chimney Inspector can scan your flues and provide photos of any defects discovered during your assessment. 
When a fire ignites inside a chimney, where does the flame escape?
Fires are not meant to happen inside chimneys. Fireplace fires must be contained to a firebox. So when an unintended fire starts inside a flue the smoke and flame will not go all the way to the top and exit outside the chimney, but instead, that flame takes the first exit out that gap and into your house. >>> Scary! 
Now you know how home fires start from chimneys. Since you're here reading this, you'll take action and not let this happen to you!
Can you help us spread knowledge that saves lives. Share it with your friends and family? 
6. Restore a Firebox and Install a Fireplace Liner
Suppose a chimney has a stainless steel liner installed. In that case, it protects the existing ceramic tiles from continued damage (like the cracking mentioned above). The new liner becomes a barrier that does not allow smoke or other toxins like carbon monoxide to break through!
Over time, fireboxes also suffer from cracks and deterioration. Since the firebox is the part of your system closest to the fire, it takes the brunt of the heat before it escapes. 
For these reasons, most chimneys will eventually need their flues to be lined or re-lined. Common damages may result from a flue fire or the deterioration of the system. Whether it's an older model direct vent, gas log unit, wood-burning fireplace, or a gas flue appliance vent, they all suffer from age and regular wear and tear.
How we can help you
During a complete Full Service Chimney inspection, our technicians scan the interior and exterior of your system and show you what we see. Together, we discuss your best options to help you determine which repairs are necessary for your system integrity and then cover optional upgrades for those who want to take restoration to the next level.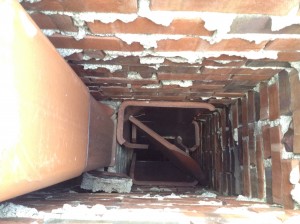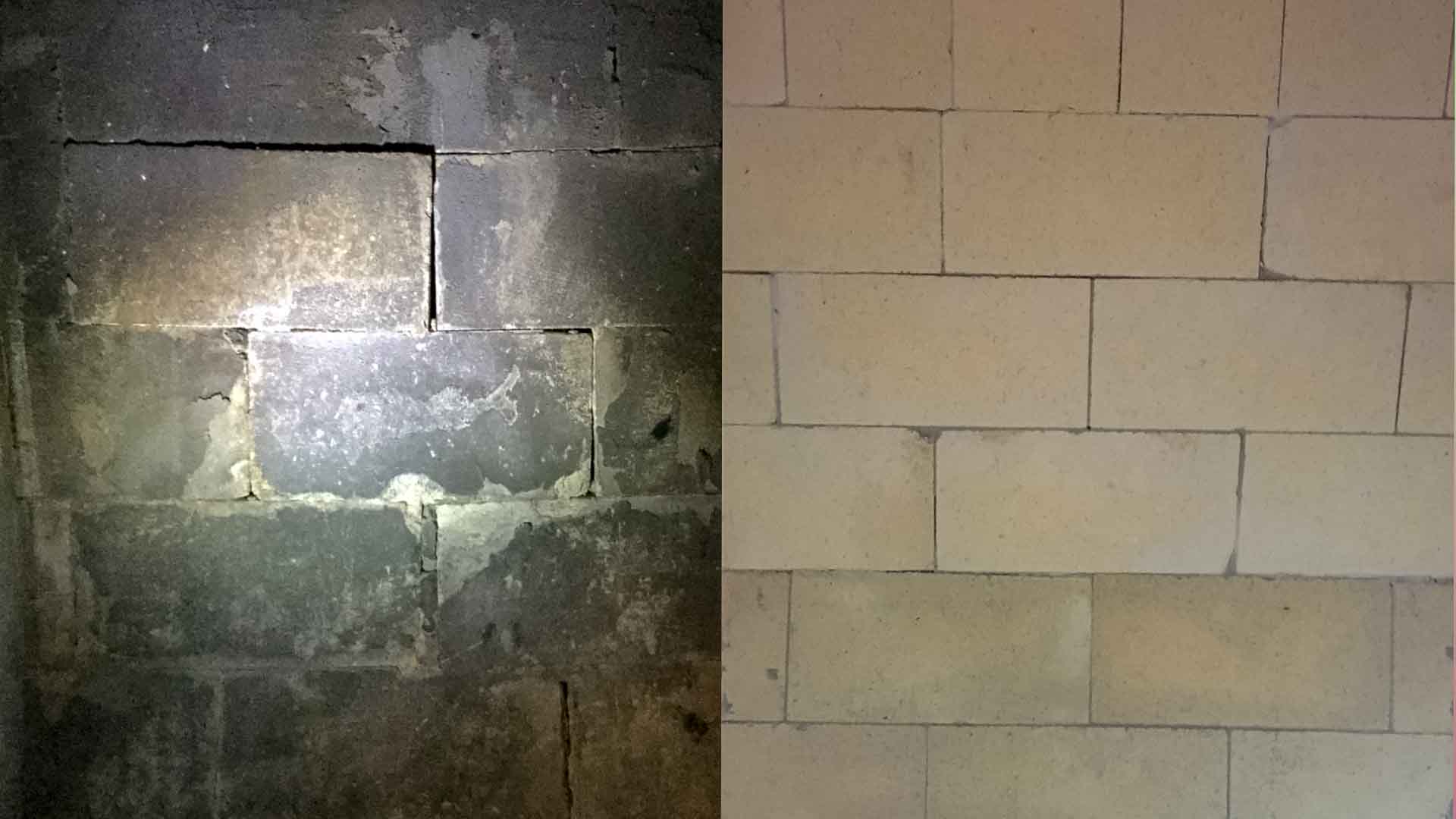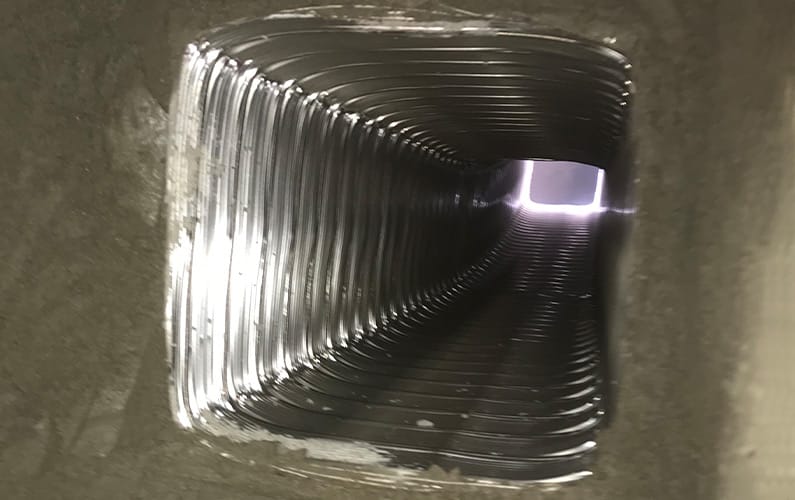 Did you know?
You may need a chimney sweep to visit, even if your house doesn't have a fireplace! It's true and if you have gas utilities at home this applies to you.
Click here to discover more about fireplace repair in the Kansas City area:
7. Inspect Your Gas Appliance Flues
Gas flues that carry exhaust from your furnace and/or hot water heater need to be checked and capped, if needed, to prevent nesting in these flues which would contribute to carbon monoxide being released into the home. Have your water heater and furnace systems inspected every year in addition.
How to save money on the cost of chimney maintenance and repairs. 
While the terms will vary per company, in some cases, you may be able to get a discounted price when you combine all your chimney services into one bulk appointment every year.
Instead of calling your technician out multiple times for different reasons… or calling different companies for multiple things…
Our advice is to find a certified fireplace and chimney service in your area that does it all. In many cases, having a record of a professional inspection at least once per year helps you ensure that your chimney liner warranty stays good. (If you have a warranty on your system make sure to read the terms). 
Here's why:
Gas furnace chimneys are regularly exposed to exhaust that contains acidic materials that do damage to your flue tiles. Over time, it eats away at the mortar and flue tiles which can lead to poisonous C.O. getting pushed back into the home.
Learn more about Gas Chimney Services and hire your local CSIA Certified Chimney Sweep Technicians to install a new liner in your home today.
8. Address High-Efficiency Appliance Issues
Converting a mid-efficiency appliance to a new unit could leave a gas-vented appliance venting into a chimney flue that's too large, thus causing condensation and further deterioration of its liner system. Increased moisture is an issue we discuss below, but it's not the only problem.
Higher efficiency systems are often marketed to consumers as the newest and next best thing, which may be true. However, many services sell a great product to their customers but don't consider other factors in their upgrades, like the age and size of the current venting system.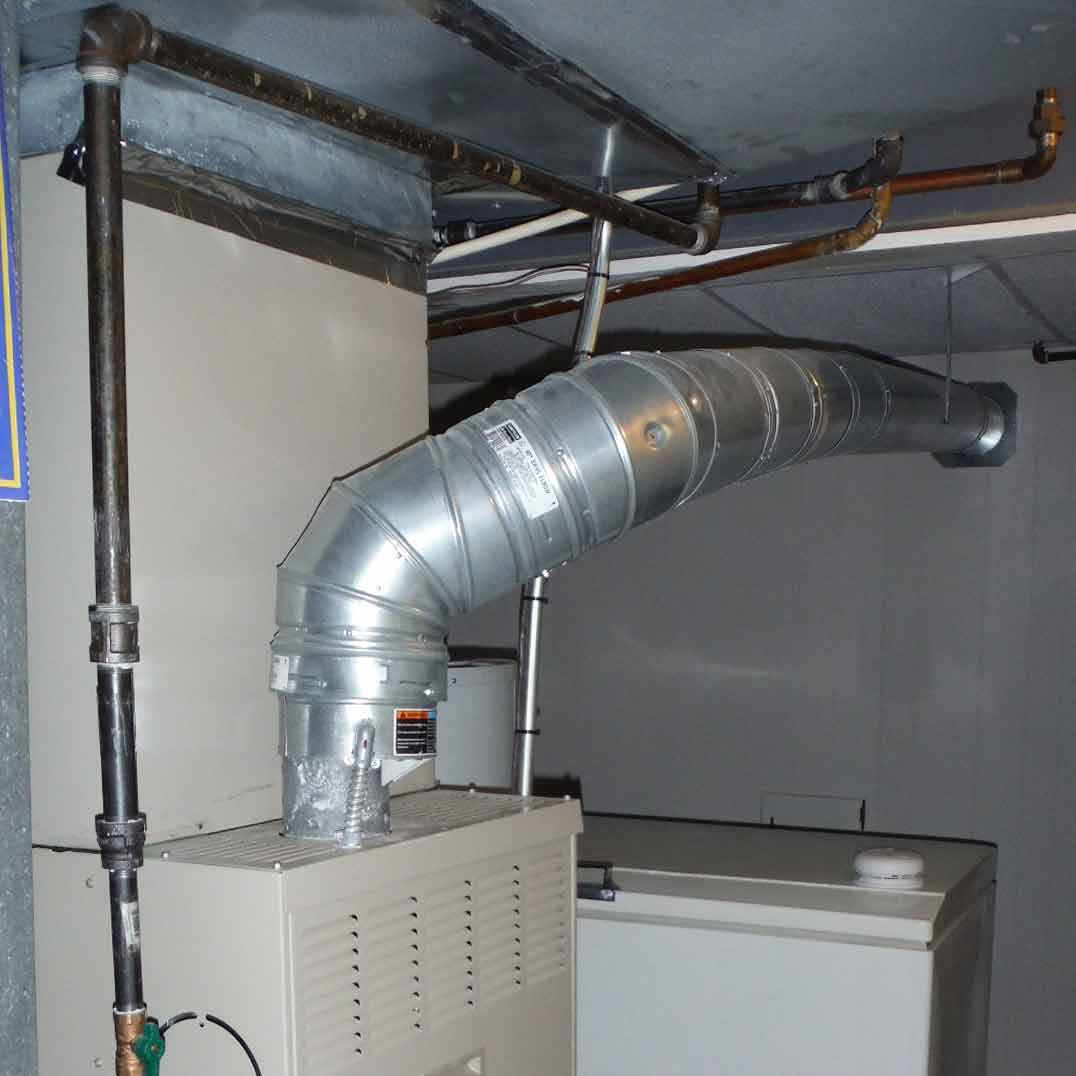 Example Image of a HIGHER efficiency furnace with a 4-inch connector collar, no opening on door for dilution air.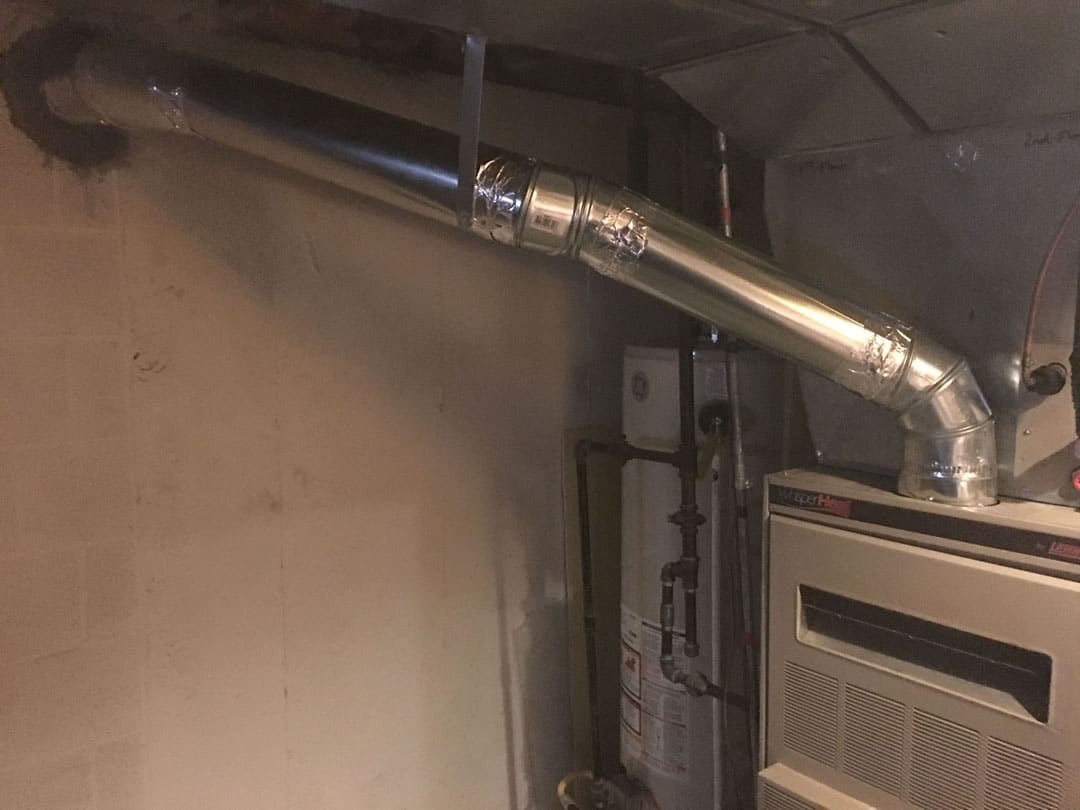 Example Image of a MID efficiency furnace with a 5-inch or larger connector, and large opening on door below flue collar.
Chimneys are often left out of these household decisions but should be a primary consideration. Matching the appliance (both type and BTU's) to the proper chimney design is critical for safety and performance. 
Full Service Chimney™ considers all the factors and takes the extra steps necessary to help you solve your high-efficiency related chimney issues.
9. Stop Chimney Condensation Problems
Excessive moisture and acids in flue gases can destroy your chimney in just a few short years, but it's preventable. Furnace flue condensation is a common problem that reduces the lifespan of your appliances flue.
What Causes Flue Condensation?
When hot gasses cool too quickly inside a chimney flue, condensation happens. You might notice water dripping that will eventually cause corrosion. Once the chimney system is fully corroded, hot gases can flow into the house and become a potentially lethal hazard to your family or tenants.
2 Common Reasons for Gas Chimney Condensation
Here's two common reason for condensation problems to start happening in your gas utility chimneys that are preventable.
The gas temperature is not hot enough to flow freely through the flue and get released out of the system.
Poorly Designed Chimney System; this can be remedied by a professional chimney service or an HVAC company.
Click here to discover more about gas chimney services in the Kansas City area:
10. Make Your Home & Hearth Smell Great Again
Damp creosote in the flue can have a sour, almost sickly smell. Certainly NOT a welcoming scent for your home! Warm weather, rain and high humidity tend to increase the strength of this foul odor. We don't want to scare you away from using your fireplace, just realize that cleaning your chimney often helps eliminate this smell.
So let's get rid of the stanky stank and clean that nasty creosote to make your home smell great again!
Trust us, your friends, family, pets and other house guests will thank you for the fresh air
SUGGESTED CONTENT: Why Bad Odors Happen to Good Fireplaces
If you're interested to learn more about what makes a fireplace stink? Below are 2 posts that deliver the information you need. The reasons for this common problem often depends on the type of fireplace you have. If you're not sure how to tell, click that link.
If you already know you have a gas or wood unit and just want to know what's causing the bad smell, check out either of these posts for a full overview:
Now, you're fully equipped with the top 10 Reasons Why You Must Hire a Full Service Chimney™ Sweep. Inspecting your venting system sooner rather than later helps catch issues that may lead to fires or hazardous situations.
You can prevent problems from animals or moisture, foul smells around your fireplace, inner liner cracks, and other damages that may go unseen by the human eye (without professional equipment).
Discerning homeowners know from experience why you shouldn't wait until the late Fall to call because that's when everyone else is trying to schedule. Even if you find a chimney sweeper with an opening, you may still have to wait weeks or months for an appointment during the busy season!
That won't help when you need your fireplace working during cold winter. Remember, it pays in many ways to have your furnace and fireplace chimney venting systems undergo maintenance or repairs during the warm months.